Monica Goermann
"There is only one thing that makes a dream impossible to achieve: fear of failure."
-Paulo Coelho

Dreaming, believing, and achieving are the steps that line the path to fulfilling our goals & dreams, a path Monica has traveled many times. Her job as Artistic Director & Choreographer at her studio, Monica's Danz Gym, has realized some of her earliest aspirations in life. Monica has always known she wanted to be a choreographer–as a young girl, she could often be found pirouetting her way around the wooden floors of her family's living room for hours at a time. Her formal training at the Royal Winnipeg Ballet was second only to her passion for artistic gymnastics, the path she chose to pursue at age twelve. Though she continues to dance as a compliment to her training, Monica's seven years as a member of the Canadian National Gymnastics Team gave her the opportunity to compete all over the world, from Japan to Russia. Her signature grace & artistic flair was widely known; she truly shone on Floor Exercise, where her most influential teacher & choreographer, Peggy Cook, captured Monica's finesse in her many floor routines over the years. Peggy opened Monica up to a world of endless possibilities, helping lay the foundation she continues to thrive off of to this day.
Family has always played a significant role in Monica's success. It was her parents who coached her to the top, pushing her to fulfill her full potential as a five-time medalist at the Pan American Games, and a member of the 1980 Olympic Team. Building something from nothing is a passion passed down through the generations–Elfriede & Wolfgang Goermann built the Winnipeg Gymnastics Center up from the ground. Their humble beginnings were found within the walls of the YMCA, where gym time most often meant family time. The first time Monica did her Tsukahara on Vault was a family affair, with her mom spotting in the front, her dad flipping her in the back, and her brother bringing up the rear. It was her father who first suggested Monica establish her own dance studio, after her years of teaching dance to her fellow gymnasts, and her many experiences coaching & learning abroad.
Twenty successful years later, Monica's Danz Gym is thriving under the careful guidance of Monica, with Liz Cooper's aerial expertise adding the unique element of flight to their repertoire of classes. Monica plays a very active role in her studio's success–she teaches a variety of classes, from acro danz to aerial, to students of all ages. Her most recent endeavor took her on an adventure to Sarasota, FL, where she became an instructor in Flying Aerial Yoga. Striving to pass along the knowledge she has gained on her journey, Monica has given many girls the opportunity to travel overseas to study & perform, throughout much of Europe & North America. In 2003, she and Liz established Winnipeg's premier youth circus troupe, Momentum Aerial & Acrobatic Troupe, which enables youth to pursue the aerial arts at a high level. Monica strives to open up a world of possibilities to her students, just as she was taught when she was young.
The one thing that has remained throughout the years is the strong presence of family in Monica's endeavors. MDG never would have become the place it is today without the unwavering support of her husband, Michael Thomlinson, also known as Engineer Extraordinaire. And now, just as her mother coached her on her gymnastics journey, Monica has become her own daughter's coach–it's a passion that runs through their blood. The dynamic mother-daughter duo will no doubt go far in achieving their dreams. Through teaching her students to embrace the world of endless possibilities, Monica continues to change lives through the art of dance.
Liz Cooper
Liz Cooper is a professional aerial performer, choreographer, and former independent modern dancer. A graduate of the Senior Professional Program of Contemporary Dancers in Winnipeg, Canada, Liz began performing aerial circus arts in 2001 and is the head aerial instructor for Monica's Danz Gym. MDG's aerial arts program is the first and only one of its kind in Winnipeg, offering training for all levels and ages in aerial fabric, hoop, trapeze, slings, straps, and rope. Liz has received additional professional aerial training from instructors in Toronto, at the Aerial Dance Festival in Boulder, Colorado, and at Circus Juventas in Minneapolis. She has also attended seminars and workshops in aerial performer rigging in Brooklyn and Boston. She attends annual aerial teacher trainings through the Nimble Arts program at the New England Center for Circus Arts in Vermont, USA for ongoing education and development as an instructor.
In 2004, Liz and Monica's Danz Gym director Monica Goermann founded Momentum, a performance company devoted to creating original works fusing dance and aerial circus arts. Together with Monica, theatre director Loc Lu, and Momentum's artists, Liz choreographs and performs in Momentum's full-length productions, including Dreamquest (2005), Nakbani (2008), Masquerade (2010), Seeking Grace (2013), Ten Thousand Prayers (2016), Causin' A Commotion (2016), Indiana Joanna and the Quest for the Lost Pearl (2017), and Blink (2018).
As a soloist and as a member of Momentum, Liz performs aerial choreography in many venues both locally and internationally. Past highlights include annual concerts with the Winnipeg Symphony Orchestra, Winnipeg's Mardi Gras, the World Gymnaestrada in Finland, Switzerland, Austria, & Portugal, the Canadian Gymnaestrada in Ottawa & Winnipeg, the Festival of Aerial Arts in Houston Texas, the Contemporary Circus Arts Festival of Toronto, the grand opening of Winnipeg's Bell MTS Centre Arena, Juno Awards gala banquet, Frostbite Circus shows produced by contortionist Samantha Halas, the Dare to Dance Gala in Saskatoon, and the School of Contemporary Dancers Professional Program's 35th & 40th Anniversary Galas. She has also appeared as a guest performer with NAfro Dance Productions, Bolero Dance Theatre, and Manohar Performing Arts of Canada.
In addition to her ongoing classes in Winnipeg, Liz has taught aerial dance workshops in Saskatoon, Edmonton, Toronto, Seattle, Houston, Honolulu, and with the Oulun Tahti Sirkus school in Finland. She is also a former STOTT Pilates instructor trainer and presents workshops on anatomy & injury prevention for aerialists.
Jayme Nickel
"The best part of teaching aerial is the dancer's enthusiasm. All the students are so happy to be dancing and always ready to learn. It's infectious!"
Jayme grew up dancing at MDG. After taking a break for a few years she started taking classes again and her passion was re-sparked. Having taken classes for a few years, it was a natural progression for her to teach her passion. In addition to doing and teaching aerial, Jayme is enrolled in Professional Baking at Red River College. Her love of competitive figure skating eventually led to a love of aerial fabric, hoop, trapeze, and rope (especially spinning). In her free time, Jayme enjoys baking and reading Harry Potter.
"I love aerial because it forces you to focus. You can't be wrapping up for a drop and thinking about personal issues at the same time. It won't go well."
Jayme is a very goal-orientated person. Her current aerial goals are to be able to climb to the ceiling with no feet and to gain the confidence to do 'the arrow'.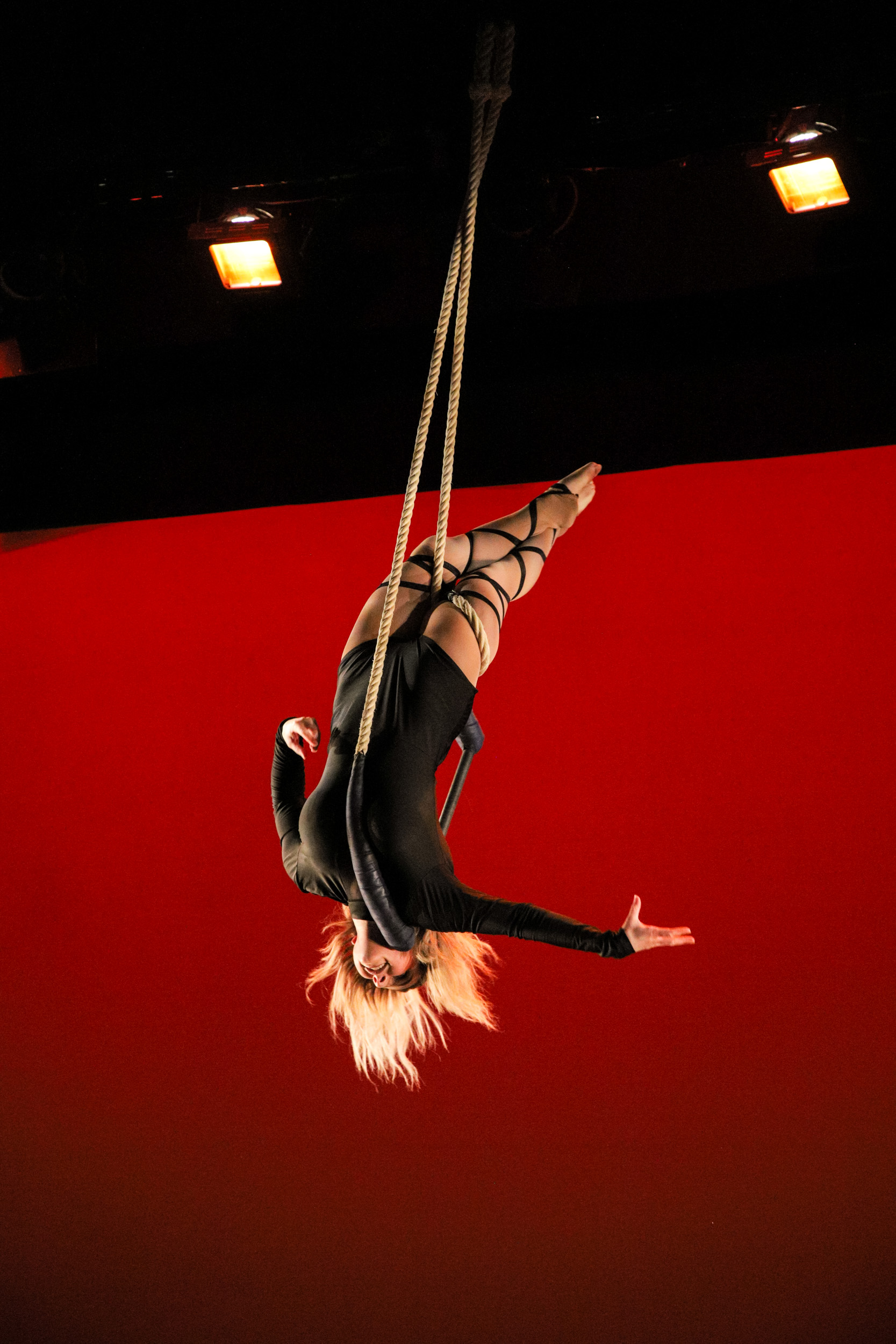 Anastasia Evsigneeva
"The word impossible is not in my dictionary" © Napoleon Bonaparte
Anastasia Evsigneeva is a contortionist, contemporary dancer and circus performer. She was born in Rostov-on- Don, Russia in an artistic family. Anastasia's mother is a dancer and choreographer and her father is a mime, who worked with the circus when he was young. Anastasia is a combination of dance and circus with her own vision at contemporary art. Currently, Anastasia is at the graduation year of the Professional Program of the School of Contemporary Dancers, working towards her BA in Dance. The dance training is successfully accompanied with an intense contortion, aerial hoop and partner acrobatics training, that helps Anastasia to broaden the opportunities in her future artistic career. Anastasia has started dancing since her early childhood, which now gives her around 19 years of dancing experience. Being soloist in a Dance Theatre "Camertone" in her home city, she decided to learn some "cool tricks" to improve her dancing without planning on a circus career. Anastasia went to a circus studio "Search" and fell in love with circus right away. That has become her second passion in life. She was trained by one of the best coaches in her hometown, master of Sportive Acrobatics Tatyana Seiko. After moving to Canada, Anastasia successfully established professional connections in Winnipeg and continued her training in contortion and hand balancing under the guidance of Samantha Halas. Anastasia has also taken workshops and intensives with Amara Conde, Andrey Bondarenko, and Yamoussa Bangoura. In 2017 Anastasia has also started taking aerial hoop and silks classes with Kimberley Craig and Liz Cooper.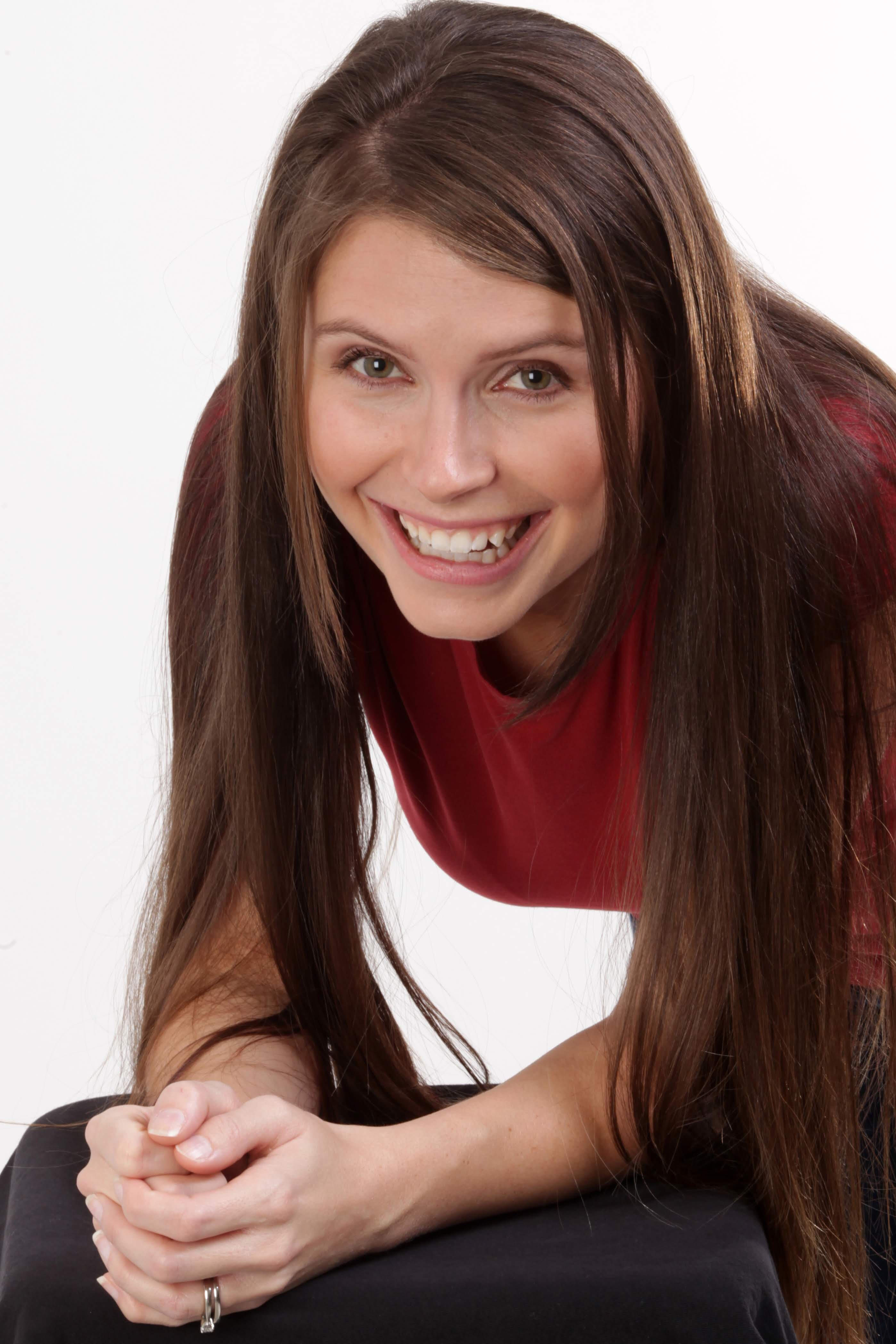 Jaime England
"All our dreams can come true, if we have the courage to pursue them".  Walt Disney
To Jaime all the world is a stage. Since she was very little she loved being the centre of attention. She has fond memories of playing "Jaime wolf" and "Grandma Pig" with her Grandma at the age of 3, where they would crawl around in boxes and Jaime would "blow the houses down" and yell with determination "Ladies and Gentlemen Jaime show" !! 
Jaime has been dancing since the age of 5 with her primary training being Highland, along with Jazz, Hip Hop, Polynesian, Tap, and now has discovered a love for Aerial. She has been taking acting classes since the age of 8 and loves performing on and off stage, and has even been in an Indy film entitled "Crush" at the age of 12 . She has auditioned for big movies too such as X-Men 3: The Last Stand for Kitty Pride, but the role went to Ellen Page. But that is ok because if she had landed that role she would have never met her Prince Charming and had her three beautiful girls. She has passed on her love of performing to her daughters and enjoys the opportunity to see them performing in dance, drama and now Aerial.  Jaime has been voluntarily been the Artistic Director of the Drama Club she started back in January 2014 in Kelowna BC where she is from. Since then she has written, choreographed, acted and directed, 9 shows in Kelowna, Surrey and now Winnipeg. Jaime is so excited to continue teaching Drama Club at Monica's Danz Gym and becoming an official teacher on the Roster. Jaime is so excited to pass on her love, passion and talent for theatre and performance to her future students at Monica's Danz Gym and hopes to pass on fun, enthusiasm and confidence.
Loc Lu
Loc Lu has been a performer, instructor, and director for the last 10 years. Formally trained in physical theatre technique, mask, clown, forum theatre, and film work, he began teaching children's theatre in 2001 at Manitoba Theatre for Young People. He's worked with a students of all ages (from 3 to adult) and has facilitated workshops and camps for several of Winnipeg's leading arts organizations including MTYP, Artist in Schools, Aboriginal Arts Training Program, Green Kids and most recently, Monica's Danz Gym.
Amanda Joy
Amanda has been dancing since she was two years old. Throughout the years she has studied many styles of dance including tap, jazz, ballet, pointe, character, modern and French-Canadian folk. Amanda studied with the Junior Professional Programme of the School of Contemporary Dancers and with the Royal Winnipeg Ballet Professional Division (Teacher Training Programme). A licensed Zumba Fitness instructor, Amanda enjoys inspiring participants through her love of dance and music. Amanda was also a dancer, teacher and choreographer with l'Ensemble folklorique de la Rivière- rouge for seventeen years, where she studied gigue and honed her skills as a traditional French-Canadian dancer. As a founding member of Ça Claque! (Franco-Manitoban artists who share their love of French Canadian folklore, traditional as well as contemporary, through music and dance), Amanda has traveled and performed in South America, the USA and throughout Canada. She is also a dancer and choreographer with the modern dance performance group 'Prairie Dancers'.
Joanne Galligan
Joanne is a Toronto based aerial arts instructor and personal trainer. She specializes in Static and Dance Trapeze. She has her Foundation Level Trapeze Teacher Training from the New England Centre for Circus Arts under Elsie Smith (formerly of Cirque du Soleil), and is a Canfitpro Certified Personal Trainer.
Joanne has been studying circus arts for ten years, and has been training others for the last six years. She coaches at the Toronto School of Circus Arts, Hercinia Arts Collective and Pursuit OCR. Although her heart belongs to trapeze, she continues to study all forms of circus arts including silks, chinese poles, spanish web, rope, aerial cube and swinging trapeze.
Travelling throughout Canada and the USA, she has had the pleasure of training under a number of world renowned circus artists, including Decker LaDouceur (Toronto School of Circus Arts), Elsie & Serenity Smith (New England Centre for Circus Arts, USA ), Aimee Hancock (NECCA, USA) & Fred Deb (Cié Drapes Aerien, France). Her goal as a teacher is to never stop learning!
Joanne loves to share her passion with others and enjoys working with all levels of students. She is a firm believer that ANYONE can do circus!